Your shopping cart is empty!
Jaltest diagnostics tool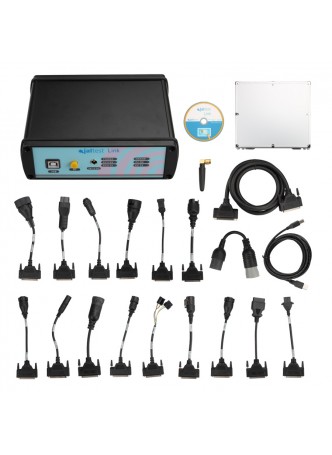 Jaltest diagnostics tool
Product Code:
Jaltest diagnostics tool
Availability:
In Stock
$1,200.00
Ex Tax: $1,200.00
Jaltest Link Coder Reader For Paccar Peterbilt Kenworth Freightliner Sterling Westernstar International Mack Renault Hino Trucks.It is a good detector, he had read fault codes, sensor data measurement, calibration features ECU.
Jaltest Link Coder Reader For Paccar Peterbilt Kenworth Freightliner Sterling Westernstar International Mack Renault Hino Trucks

Get Jaltest Link Coder Reader for Four Reasons:

1. It is not only has a common diagnostic functions, as well as calibration, reset and parameterize advanced features.
2. It can be useful to test the pressure of common rail maintenance parameters
3. It is a good detector, he had read fault codes, sensor data measurement, calibration features ECU,and test units as
ZME,IMV,EFC/M-PROB,PVC valve, fuel measurement solenoid valves .
4.Language:English ,Spanish
Jaltest Link Coder Reader Features:

1. JALsoftware has system electronic scheme, technical date, maintenance date, technical release,Jaltest ,
2. There are a lot of maintenance information and circuit diagrams, electrical schematics, maintenance help, and a very simple and convenient diagnostic tool.
3. It is not only an advanced feature of the Scanner can diagnostic trucks, buses, construction vehicles, light commercial vehicles, trailer, special vehicle,
agricultural machinery and more manufacturers etc. to test a good diesel, diesel pump and natural gas engines, single pump, high pressure common rail pump,
and injector.
Multibrand Diagnostic Software Common vehicle models: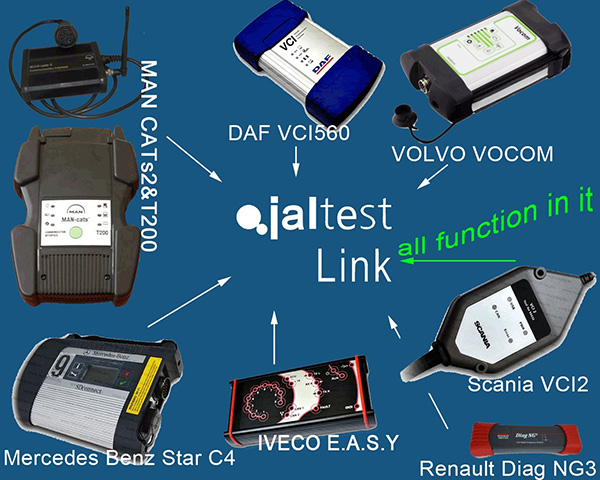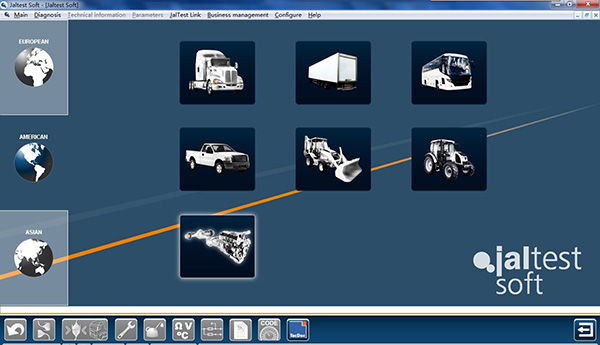 1. Mercedes-Benz

HEAVY-DUTY:Actros, Atego, Axor, Econic, LK, MK,SK, U20, U300, U3000, U400, U4000, U500, U5000, U20, Vario, Zetros,1939S/1944Eletronico,BR300, BR400,
INTEGRO EURO5, LO712, LO812, LO915, O 345 CONECTO,O 345 TOURISMO,O404, O 520 CITO,O530 550INTEGRO,O 560, O 580 TRAVEGO,
O550R/M/MA/U/UA,OC 500LE,OC 500RF,OF/OH/LO,OF1015-41, OF1119-41, OF1218, OF1319-44, OH1215/OH1518/OH1622-26, TOURISMO,K16, S400, TA5127.
LIGHT-COMMERCIAL-VEHICLE:
Vito,108,CDI,Vito,109CDI,Vito,110,111,112,115,Sprinter,208,209,210,211,212,213,215,216,218,308,309,310,311,312,CDI,Sprinter,316,408,410,412,413,415,416,
418,509,511,515,518,Vario,613,616,618,813,816,818

2. MAN Trucks BUS

HEAVY-DUTY: F2000, F90, G90, L2000, LE, M2000, ME, TGA, TGL, TGM, TGS >2007,TGX>2007, City & Intercity E, S, EL 223/283, EM220, EM222,EM283, ND222,
NG262, NG/SG263LION'SCALSSIC G,NL223,NL243, NL263, NL283, NL313, NL363LION'S CLASSIC,NM223, NM283, NU263, NU283, NU313, NU363,
Coach ( RH ), R313, R363, RH352, RH402, RH403, RH463,RHC414, RHC464, RHS414, RHS464, Intercity ( N ), SD202, SG263, SG292, SG313, SL223,
SU313, SU363, UL353, UL363 LION'S COMFORT

3. DAF

HEAVY-DUTY: 65CF, 75CF, 85CF, 95XF, CF65, CF65 IV, CF75, CF75 IV, CF85, CF85 IV, F45, F55, F65, F75, F85, F95, LF45, LF45 IV, LF55, LF55 IV, XF105, XF95

4. VOLVO GROUP

HEAVY-DUTY: F10, F12, FE 2006-, FH 2005-, FH12 1993-1997, FH 12 E98 1998-2001, FH 12 V2 2002-2005, FH 16 1993-1997, FH16 E98 1998-2001, FH 16 V2
2002-2005,FM7 1998-2001,FM9 V2 2002-2005, NH 12

5. IVECO

HEAVY-DUTY:Euro star LD,Euro star LD Cursor, Eurocargo 2008, Eurocargo Cavallino, Eurocargo ML CNG engine, Tector 2006, Eurofire ML CNG engine, Eurofire
ML Tector2006 Euro5,Euromover Euro 2/3, Eurotech MH RSU Cursor, Eurotech MT/MH/MP,Powerstar, Stralis AD CNG Euro5, Stralis AS 2007 2008, Strais AT-AD
Euro5, Strais AT-N2007,Trakker Euro4/5/EEV,CITYCLASS,DAILY BUS,DOMINO 2001, EUROCLASS,EUROPOLIS,EURORIDER,MINIBUS,MY WAY,POLLICINO

LIGHT-COMMERCIAL VEHICLE: CITY TRUCK 2000, CITY Truck HPI-HPT Euro 2/3/4/5,Daily 2006, New Daily 2006 CNG, TurboDaily

6. SCANIA

HEAVY-DUTY:114, 94, 94OMNICITY, BN 113, K113, K124, K230IB,K270IB,K310IB,K340EB,K380IB,K420EB,K420IB,K470EB,L113, N113, N230UB,N270UB,N310UB,
113, 114,124, 143, 144,164, 93, 94, G230, G270,G280,G310, G320, G340, G360, G380, G400, G420, G440, G470, G480, P230, P270, P280, P310, P320, P340, P360,
P380, P400, P420,
R230, R270, R310, R340,R360, R380, R400, R420, R440, R470, R480, R500, R560, R580, R620.

7. Renault

HEAVY-DUTY:
G series, R series, KERAX,KERAX DXi, MAGNUM,MAGNUM DXi, MAXITY,MIDLINER,MIDLUM,MIDLUM DXi, PREMIUM,PREMIUM DXi, PREMIUM DXi Lander, AGORA,ARES,
ILLIADE,PR112/118,R212/312, RECREO KAROSA,TRACER.

LIGHT-COMMERCIAL VEHICLE:
Mascott DXi Phase III, Mascott dCi, Mascott dCi 1.9, Mascott dCi 2.2, Mascott dCi 2.5/2.8/3.0, Maxity, Trafic 1.9DCI, Trafic 2.0DCI/2.5DCI,

8. HINO AMERICAN

HEAVY-DUTY:Class4,145,165,Class 5,185,Class 6,238,258,268,class 7,338,

9. HYUNDAI LIGHT-COMMERCIAL VEHICLE

Grace 2.5 intercooler, H-1 2.5CRDi cargo/Travel, Starex 2.5 CRDi/Diesel/TCI/Turbodiesel 4WD.

10. ISUZU

HEAVY-DUTY: NPR, NQR, NQR 3D, ROYBUS,TURKUAZ,
LIGHT-COMMERCIAL VEHICLE: D-MAX 3.0 Diesel turbo, D-MAX cab 3.0 Diesel turbo pick-up, N-series 3.0D.

11. MITSUBISHI LIGHT-COMMERCIAL VEHICLE

Canter 5.2 Diesel, Delica Cargo 2.0/2.5diesel, Delica Van 2, L200 2.5HPE, Triton 2.5/3.2 diesel 4WD.

12. TOYOTA LIGHT-COMMERCIAL VEHICLE

Coaster 4.1 diesel turbo, Corolla Van 2.2 diesel, Dyna 2.5/3.0/3.7/4.0/4.6/4.9 diesel, Hiace 2.5 D-4D,Hiace 3.0, Hiace Commuter 2.5 diesel, Hiace Van 2.5/3.0 diesel,
Land Cruiser 4.5,Liteace Truck 2.2,Liteace Van, Quantum 2.5 D-4D, Townace Truck/Van 2.2.

13. NISSAN LIGHT-COMMERCIAL VEHICLE

HEAVY-DUTY: ATLEON, CABSTAR,
LIGHT-COMMERCIAL VEHICLE: Cabstar 2.5, Cabstar 3.0, Cabstar E 2.3/2.7/3.0, Caravan, Interstar 1.9/2.2/2.5/3.0 diesel, Primastar 1.9/2.0/2.5 dCi, Vanette truck/Van

14. CITROEN LIGHT-COMMERCIAL VEHICLE
Jumper diesel, Jumper diesel ( 23 ), Jumper diesel ( U5 ) , Jumper diesel ( U9 )

15. FIAT LIGHT-COMMERCIAL VEHICLE

Ducato, Ducato 10 94, Ducato 11 08, Ducato 14 90, Ducato 15 08, Ducato 17 06, Ducato 18 94, Ducato 4*4 02, Ducato Cargo 2.5D, Ducato Combinato 2.8 JTD, Ducato
Maxi17/20, Ducato Maxi Cargo 2.8 JTD, Ducato Minibus 2.8, Ducato Multi T.A.2.8 JTD.

16. FORD LIGHT-COMMERCIAL VEHICLE

F-150, F-250, F-350-F-450, F-550, F-650, F-750, E-350 Econoline, E-350 Super Duty, F-250, F-350, F-250 Super Duty, F-350 Super Duty, F-450 Super Duty, F-550 Super
Duty,Transit connect,Transit Euroline,Transit Nugget, Transit Tourneo, Transit FT

17. FRIEIGHTLINER

LIGHT-COMMERCIAL VEHICLE:
Sprinter 2500, Sprinter 3500

HEAVY-DUTY: Cargo series, Argosy, Business Class M2, Cargo FC 80, Cascadia 2008, Century C 112 120, Century Class S/T, Classic -120, Classic XL 132, Columbia
112,Condor,Coronado, FL Series,FLD Series, M2 Series

18. GM-CHEVROLET HEAVY-DUTY

Kodiak C-Series, C4500, C5500, C6500, C8500, C8500 Tandem, T-series, F6, F7, T6500, T7500, T8500, W-series, W3500, W4500, W5500.

19. INTERNATIONAL HEAVY-DUTY

2000 Series, 2554,2574,2654,2674,4100,4200,4300,4400,4800,4900,5000,5070,5500,5600,5900 SBA,5900 SFA,7300, 7400, 7500, 7600, 7700, 8100, 8500, 8600, 9000
Series,9100,9200,9400,9900,9900ix,City star Series, Dura Star4000, Lone Star, Paystar, Prostar, CF500, CF600, CTX, CXT, MXT, Tran star 8000, Work star 7000, RXT, TXR
Hauler

20. KENWORTH

HEAVY-DUTY:CB500B, K100E, K260, K360, KW45, KW55, T170, T2000, T270, T300, T370, T400, T440, T450, T600, T700, T800, W900

21. MACK

CH/CHN Series, CL612, CL613, CL712, CL713, CL733, CS200, CS250, CS300, DM690, DMM6906, Granite, Granite Axle Back, Granite Bridge Formula, LE Series, MR 690,
MS200,MS250,MS300, MV322,Pinnacle Daycab Axle Forward, RB-690, RD-888, Terrapro cabover, Terrapro Low Entry, Titan TD713, Vision CX, Vision CXN, Refuse series

22. PETERBILT

Aerodynamic Models, Hybrid Models, Medium duty, Traditional, Vocational, 210,220,320,330,335,340,357,365,367,378,379,384,385,386,387,388, 389,587.

23. STERLING

Acterra, Condor, SC8000, SCT8000, Set-back A-series, Set-back L-series, Set-Forward L-series, Silverstar series ST9500, Sterling 360

24. WESTERN STAR

4842,4864,4900,4942,5842,5864,5900,5942,5964,6900,6964, LOW MAX,

25. DODGE

RAM,3500, 4500, 5500

26. Others Vehicle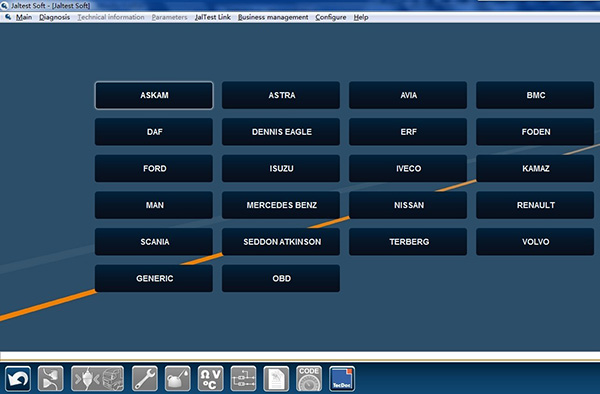 ABS trailer, ABS trailer, EBStrailer, Electronic module, suspension, EPV,Haldex ABS,Haldex EB,Haldex Modular/PLC, Knorr A18, Knorr KB3-TA,Knorr TEBS Gen, Knorr
TEBS4 via K, MGX, Trailer ELM,Wabco EBS, Wabco ECAS, Wabco VCS, Wabco VCSii, Wabco Vario C, EATON Transmission TECU Shift Gen, Bendix ABS 2X, Bendix
U1X,Bendix EC-17, Bendix EC-30, Bendix EC-60, Bendix TABS6,ZF Meritor Transmission Freedomline, ZF Meritor SureShift, ZF Meritor Gearbox with electronic control
( some Vehicle Need optional cable, or DIY a cable yourself )
Package Including:
1set × Jaltest Link Coder Reader For Paccar Peterbilt Kenworth Freightliner Sterling Westernstar International Mack Renault Hino Trucks
Product Details:

picture
marking
discription
29380
Transport cases
355mm*340mm*160mm
5.1KG
JDC100M2
Extension cable
USB Cable
Jaltest Link interface
MULTI BRAND DIAGNOSTICS
29300
Jaltest diagnostic software,system electronic scheme,technical date,maintenance date,technical release
JDC213M2
OBD Cable
JDC209M2
DAF&SCANIA
JDC210M2
MAN F2000
JDC207M2
MAN Cable series TGA,TGL,TGM
JDC206M2
Iveco cable >1998
JDC205M2
Renault cable
JDC203M2
Mercedes cable
JDC401M2
Iveco light truck cable
JDC201M2
VOLVO 8pin cable
JDC102M2
Haldex MODAL diagnosis cable
JDC103M2
VCS,ECAS,Vario C,Trailer EBS and TEBS diagnosis cable,Wabco and knorr
JDC108M2
EB+ Connection cable
JDC212M2
"SAE" protocol cable (9 pins)
JDC101M2
Haldex MODAL cable
JDC202M2
Iveco cable <1998
Contact Information:

Whatsapp: +86-13590478211
email :ljh123owns@gmail.com
skype : ljh123owns
If you have any problem, please do not hesitate to contact us.

Shipment Note:

If your package shipped by Express Delivery, please give us a valid delivery phone number, and also a full and accurate shipping address.
Skype Me
Return Policies:
If you are not satisfied with your purchase .please contact us quickly, we can exchange one to you,but buyers is responsible for the returning shiping cost .
If you have any item proplem, just email us quickly, we will do our best to slove it in 24 hours. thank you!
If you want more items we can give you a little discout,thank you!
About the customs problems and Tax:
1. we have professional shipping company and there is no any failed customs experience before. (We have special method to send out together those stickers to avoid customs problems)
2. We always declare below USD$100 to save tax. Please leave us message if you have special requests for the declared value.
1. If you are from Brazil, you must provide your CPF NUMBER (TAX NUMBER) to us.
2.If you are from Russia,pls choose the shippment by HK air mail/EMS.
3. If your address is remote area, we will write to ask your decision before sending goods.
4.If your address is the remote place by DHL/UPS/TNT,please add more 35.0usd(extra remote fee). If do not,please cancel the order, Thanks.
24hours 7 days online service
And if nobody answer you online in time sometimes,do not worry.leave us a message or write down your desires,we will contact you as soon as possible
Hope we can do more business in the further!
Looking forward cooperation with you in the future!Waiting for your new order!
Write a review
Note:

HTML is not translated!

Powered By Michael Lee Store © 2023.